Dari K is a comprehensive cacao manufacturer that covers technical guidance to Indonesian cacao farmers, cultivation, harvest, and fermentation of cacao beans, as well as chocolate manufacturing at chocolatiers in Kyoto.
Our corporate philosophy is "Changing the world through cacao." Based on this idea, we have established partnerships with cacao producers in Sulawesi Island, Indonesia, which is the second largest cacao beans producers in the world. By providing technical guidance to the local farmers, we aim to create a system that generates added-values. As a result, we have been successful in sourcing high quality cacao beans.
In the past, Indonesian cacao beans were not favored from both Japanese and international markets because of its low quality (weak aroma and strong acidity) due to the lack of fermentation. Thus, Indonesian cacao beans were traded in an inappropriate price which caused a vicious cycle of demotivating cacao farmers to produce the beans.

To change this situation, Dari K educated the local farmers to improve the quality and productivity of cacao beans. By this, we successfully achieved to secure good cacao beans with an ensured traceability - a quality that trading company cannot gain by merely importing cacao that are already available in the market. While the demands towards cacao is globally skyrocketing, we are different in that we can ensure a stable supply from a dedicated area; farmers from Polewali, Sulawesi Island in Indonesia which is the second largest producers in the world.


Choose Dari K as your business partner to enjoy the benefits as below:
1. Stable supply of high quality cacao from a dedicated production area in Sulawesi Island, Indonesia
2. Advice on producing premium quality cacao and chocolate products
3. Environmentally friendly farming and realization of fair trade by direct transaction with local farmers
We provide optimal benefits to professionals seeking stable supply of high quality cacao beans.

Despite the high demanding environment towards cacao products, Dari K's actions have attracted media attention in Japanese cacao/chocolate market,.
Major media coverage
Newspapers:
Asahi Shimbun
Yomiuri Shimbun
The Nikkei
Sankei Shimbun
Kyoto Shimbun
Chunichi Shimbun
Tokyo Shimbun
Kansai Television (June 1, 2014)
TV Asahi (March 19, 2014)
TV:
Yomiuri TV
Asahi Broadcasting
Kansai TV
Nippon TV
Mainichi Broadcasting System
KBS, and many more
Magazines:
Ryori Tsushin
Café Sweets
Amakara Techo
Nikkei Ecology
Leaf
Savvy and many more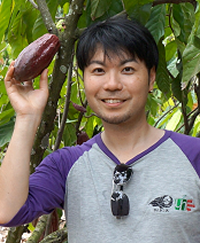 Keiichi Yoshino
Graduated from the Department of Economics in Keio University, Graduate School of Kyoto University, and the Graduate School at Oxford University. After working as an analyst at Morgan Stanley Investment Banking, Speedwell Investment, and a researcher at Statistical Information Institute for Consulting and Analysis, Yoshino established Dari K in 2011. He was a backpacker who traveled over 50 countries around the world, as well as a representative in Japan in an international youth exchange program under the Cabinet Office of Japan Government. Through these experiences, Yoshino gained wide network among political and business circles throughout East and Southeast Asia.

Under the corporate philosophy "Changing the world through cacao," Yoshino's challenge goes beyond chocolates. He is currently working on a project to supply power to off-grid areas by generating electricity from biogas gained from cacao skin residue.